MPO Female to MPO Female 12 Fibers OM2 Multi Mode Premium Trunk Cable
MPO Polarity Options: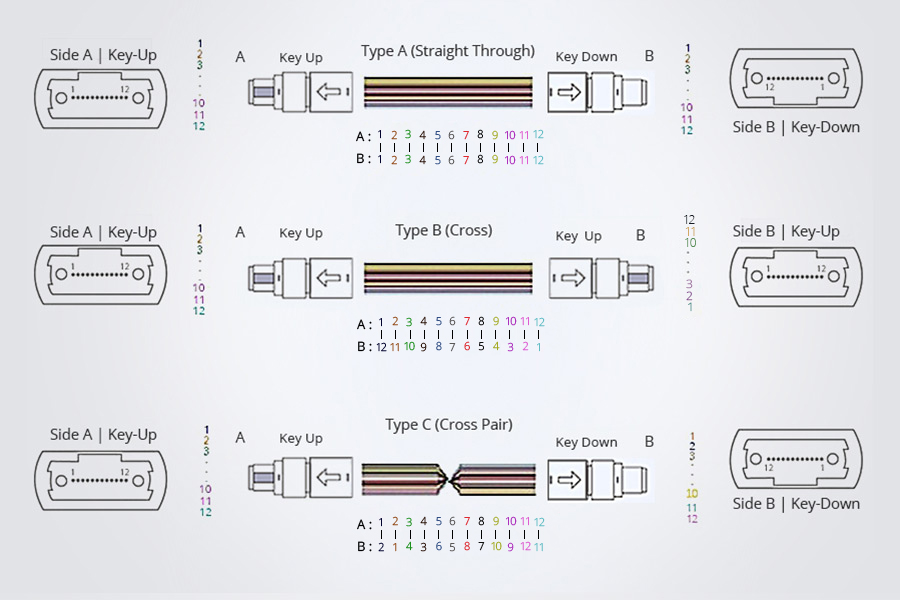 With this MPO fiber optic cable, it's possible to run a single cable that automatically terminates twelve fibers in one easy plug-in.
The small form factor of an MPO connector provides a higher port density. With its push-pull release mechanism, the MTP connector is easy to engage and disengage. Plus, its latch design prevents the plug from snagging when jumper cables are being routed. Straight-through pinning; immune to electrical interference.
Features:
Easy connection and disconnection
Factory finished MPO plugs
Push-on / Pull-off latching connector
Each MPO connector is polished according the polished end-face quality specification standard.
Specifications:
Connector Dimensions: 7.75 mm height x 61 mm depth
Jacket material: PVC CMR
Jacket OD: 3.0 mm
Installation Tensile Load: 100 N (445 lbs)
Long-Term Tensile Load: 50 N (222 lbs)
Installation Minimum Bend Radius: 4.5 cm (1.8 in)
Long-Term Minimum Bend Radius: 3.0 cm (1.2 in)
Attenuation at 850 nm: 3.5 dB/km
Attenuation at 1300 nm: 1.0 dB/km
Maximum Connector Loss: 0.50 dB
Typical Return Loss: -22 dB
Operating Temperature: -20°C to +70°C
Please Note: Attenuation testing performed in accordance with EIA/TIA-455-171A.